Magnesium Chloride Pellets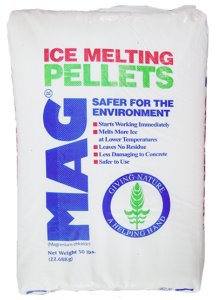 Recommended Uses
Areas with high foot traffic and ultra fast melting needs
Blending with sodium chloride for quick and long-lasting ice melting power
Melts to -15°F
Less irritating to skin than calcium
Safer for pets, plants, and concrete
Environmentally friendly
Magnesium Chloride Pellets
Magnesium chloride absorbs moisture, generating heat instantly on contact, which quickly dissolves into a brine that melts up to -15°F. Due to it being less corrosive than calcium products, magnesium is often used where corrosion and environmental impact are big concerns. Also, magnesium isn't harsh on skin, making it is safe for use around high traffic areas as well as vegetation, pets, and concrete.
While magnesium is a powerful ice melt, its fast rate of dissolving causes magnesium to last only a few hours. However, when blended properly with sodium chloride, magnesium can not only give a powerful fast-acting melt but also last for extended periods of time.
For more cost-effective blends of sodium chloride and magnesium chloride, try using, TruMelt™ 10%, or TruMelt™ 20%.