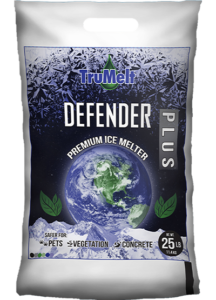 Recommended Uses
Residential Sidewalks and Steps
Melts to 0°F
Free Flowing
Convenient 25 lb packages
Safer for pets, plants, and concrete
| Details | TruMelt™ Defender |
| --- | --- |
| Performance | 0◦F |
| Concrete Safe | |
| Paver Safe | |
| Economical | |
| Free Flowing | |
| Plant Safe | |
| Pet Safe | |
| Non-tracking | |
TruMelt™ Defender Plus
TruMelt™ Defender PLUS is a premium ice melt designed to protect the environment, concrete, and pets. By using a high purity salt enhanced with liquid magnesium chloride, TruMelt™ Defender PLUS enabling the salt to begin the melting process. With an even coating of magnesium on the salt crystals, Defender PLUS can penetrate ice effectively, rapidly creating a brine and melting ice to a temperature of 0°F. Defender PLUS is very efficient, maintaining performance for extended periods of time. However, for faster performance try using  TruMelt™ 10%, or  TruMelt™ 20%.
TruMelt™ Defender PLUS uses a solar salt produced from ocean water along with magnesium sourced from natural water sources. This helps prevent contamination often caused by harsh chemicals in water run-off. TruMelt™ Defender PLUS is safe for pets and plants and will not burn paws or vegetation when used as directed.
Not what you're looking for? Check out one of our other premium blends!