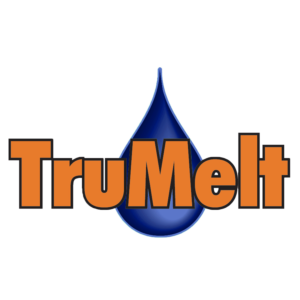 TruMelt Premium Ice Melt Blends
TruMelt™ premium ice melt blends are full disclosure labels and have the highest performing ingredients, guaranteeing a TRUE melt.
Know what is in the bag before you buy. While most salt blends are often sold without full disclosure of melting ingredients. TruMelt™ discloses the exact percentage of blended magnesium or calcium used in the ice melt blend, allowing you to know for sure what you are exposing your pets and plants to.
It is important that you know exactly what you are buying in an ice melt product. We are honest about our formula because we are very proud of it. We do not hide the ingredient inclusion rates or use false marketing claims to fool the customer into buying low-grade or lesser quality products. Instead we pride ourselves in educating on the real performance of ice melts.
TruMelt™ ice melt blends are fully dried, carefully screened, and sized for optimal melting and accurate coverage. This removes the fine particles and large crystals to avoid dusting, clumping, or clogging spreaders. We guarantee the salt crystals will be no larger than ¼ inch in diameter. TruMelt™ is tinted with a non-staining, organic, biodegradable green colorant to enhance application visibility.
The Science Behind TruMelt™ Ice Melt Blends
TruMelt™ combines three proven ice melting components: oven-dried solar salt, magnesium chloride pellets, and calcium chloride flakes.
Salt is a relatively weak ice melter, needing sun or friction to effectively melt at temperatures below 10°F. Due to their high dissolving rates, magnesium and calcium are more effective ice melters. This allows them to melt to extreme temperatures of -15°F and -25°F respectively. However, their high dissolving rates also mean they don't last very long in a snow storm.
By blending these ingredients, the salt becomes more effective while the magnesium and calcium remain active longer. This is safer than applying just salt while at the same time more efficient and cost friendly than applying straight magnesium or calcium.
TruMelt™ has this concept mastered and creates proven blends by combining premium magnesium and calcium with high quality salt. TruMelt™ ice melt is able to last longer by balancing the effectiveness of magnesium and calcium with the efficiency of salt.
| | | | | | | | |
| --- | --- | --- | --- | --- | --- | --- | --- |
| | | | | | | | |
| Details | TruMelt™ Halite | TruMelt™ Encapsulated | TruMelt™ Defender | TruMelt™ 3% Magnesium | TruMelt™ 10% Magnesium | TruMelt™ 12% Calcium | TruMelt™ 20% Magnesium |
| Performance | 5◦F | 0◦F | 0◦F | 0◦F | -10◦F | -20◦F | -12◦F |
| Concrete Safe | 2 | 2 | 2 | 2 | 3 | 5 | 4 |
| Paver Safe | 2 | 2 | 2 | 2 | 3 | 5 | 4 |
| Economical | 5 | 5 | 5 | 4 | 3 | 3 | 2 |
| Free Flowing | 5 | 5 | 5 | 5 | 5 | 5 | 5 |
| Plant Safe | 2 | 3 | 3 | 3 | 4 | 2 | 5 |
| Pet Safe | 2 | 3 | 3 | 3 | 4 | 1 | 5 |
| Non-tracking | 3 | 3 | 3 | 3 | 4 | 4 | 5 |

"TruMelt™ is truth in ice melt."